Product use
Single-phase fee control smart watt-hour meter, used to measure the rated frequency of 50Hz AC single-phase active energy, to achieve first pay after the power management functions.
This product is manufactured by special VLSI and SMT process. The key components and components adopt well-known brand of low power consumption and long life device. The whole machine adopts a variety of anti-interference technology to improve the reliability and service life of the product. , The data show that using large-screen Chinese LCD, easy to meter reading.
This product can directly measure the positive and negative active energy accurately and directly, and make multi-rate measurement according to the corresponding rate setting, which can store the total energy and the energy data of each rate on the 12 settlement days. With event logging. Support 2 year time zone, 2 day timetable, 8 day time, 4 kinds of rates. At the same time also has infrared and RS485 communication, remote meter reading can be achieved, communication protocol to follow DL / T645-2007. Its performance indicators in line with GB / T 17215.321-2008 and GB / T18460.3-2001 standards.

Start
At a power factor of 1.0 and a current of 0.4% Ib, the watt-hour meter can be started up and recorded continuously.
Defluction
The meter test output does not produce more than one pulse when the meter is applying 115% of the reference voltage without current in the current line.
Installation, wiring and testing
Watt-hour meter in the factory after passing the test, and seal, you can install and use.
installation
Meter should be installed indoors. The upper part of the power meter base has a hook screw hole, which can be fixed with a hooking screw; two mounting holes are arranged at the lower part of the energy meter and can be fixed with screws on the wiring board; the bottom plate of the energy meter should be placed on a solid and fireproof wall; About 1.8 meters. Meter installation location as shown below: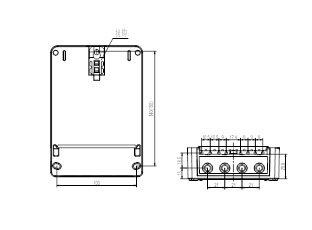 Structure dimension drawing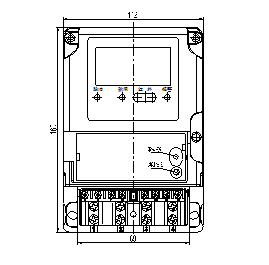 wiring
Meter should be in accordance with the terminal box on the wiring diagram wiring, with copper or copper terminal introduction.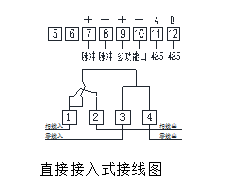 test
This series of power meters are equipped with optocoupler test output port, located at the terminals, as shown in the c, e instructions Department, the wiring is as follows: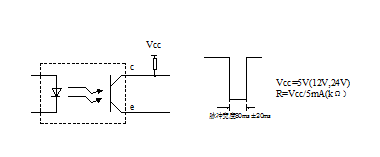 | | |
| --- | --- |
| TECHNICAL PARAMETER | |
| Normal working voltage: 0.9Un~1.1Un |  Extended working voltage: 0.8Un~1.15Un |
| Limit working voltage: 0.0Un~1.15Un |  Insulation voltage: ≥2000VAC |
| Power consumption: ≤1.5W和10VA |  The provisions of the scope of work: -25℃~60℃ |
| Limit working range: -40 ℃ ~ 70 ℃ |  Storage and shipping limits:-40℃~70℃ |
| Annual average humidity: ≤ 75% |  Dimensions:160mm×112mm×58mm(remote charge control) |
| 30 days of the year (spread in a natural way) up to 95% humidity and up to 85% for the rest of the year |  Net weight: 0.9Kg |
specification
model

level of accuracy

 Rated voltage (V)

Current (A)

Pulse constant(imp/kWh)

DDZY1225

2.0

220

40

1600

60

1600
Technical indicators
Rated frequency 50Hz
Basic error (see table below)
Load current

Power factor

Basic error(%)

1.0 level

2.0 level

0.05Ib~0.1Ib

1.0

±1.5

±2.5

0.1Ib~Imax

1.0

±1.0

±2.0

0.1Ib~0.2Ib

0.5L  0.8C

±1.5

±2.5

0.2Ib~Imax

0.5L  0.8C

±1.0

±2.0